Instead of forcing students to remain isolated and wait to learn about the power of connections and networking when they eventually move into the work force, Open-Source Learning students learn the essential structures and processes of creating and participating in networks in order to develop communities of support and critique while they are pursuing their studies.
– Academy of One: The Power & Promise of Open-Source Learning
One appeal of Open-Source Learning is the opportunity to learn through working with others. Learners can get advice from expert mentors around the world, and form networks of support and critique. Interaction accelerates understanding and intensifies the practice that leads to progress.
As described in Academy of One, effective collaboration depends on communication skills – listening and observing, reading and writing – that make the most of divergent perspectives and even conflict as projects and relationships evolve.
Collaborating online is another level. The internet gives learners access to all sorts of people around the world, which presents an opportunity for learners to establish their identities and refine the interpersonal skills they practice offline.
At the same time, since we don't get nonverbal cues like body language, facial expressions, or tones of voice, it can be easier to misunderstand each other when we're not together in person.
In addition, sometimes young people have legitimate reasons to feel guarded and protect themselves. This doesn't mean they should be alone, though, or avoid going online. The internet is not the culprit, any more than a house is dangerous because an abusive family member lives there. Learners must learn to express themselves and understand the expressions of others.
The safety issues in Open-Source Learning networks are the same as they are everywhere else; the key difference is in the way they are addressed, so that students feel valued and become empowered to express themselves and participate in solving their own problems.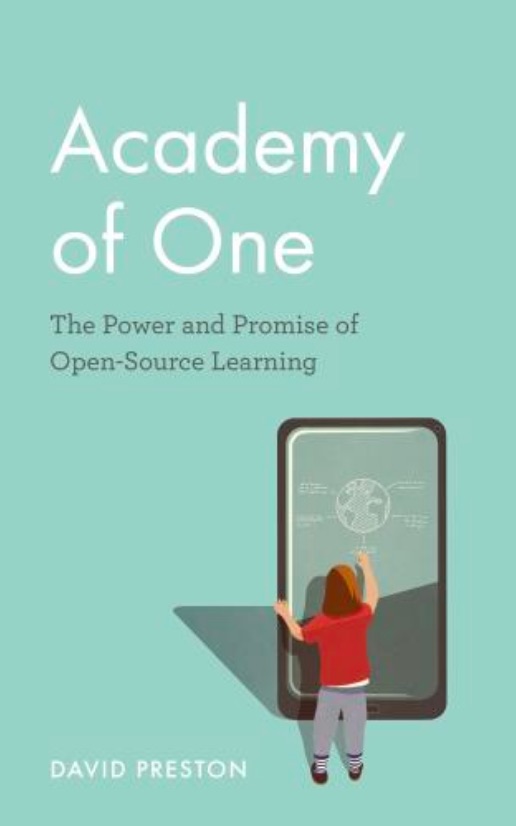 Creating collaborative spaces, both online and offline, depend on developing awareness and skills that align with the desire to create connection and positive outcomes. Open-Source Learning works to bring people together and share understanding. – that's how we define common sense.
This page includes resources that Open-Source Learning educators can use to create conversational spaces for the purposes of establishing trust, developing teams, exploring ideas, and managing conflict.
If you'd like to read more about this in Academy of One, or share the book with your learning community, please scroll to the bottom of this page to receive your 20% discount code.
Teachers and Students: Please feel free to use the elements of this post that work for you, and customize the approach for the learners in your network.
__________
RESOURCES
The art of communicating and understanding each other is essential and timeless, and there are many, many perspectives on the topic. Here are a few approaches that have proven effective in Open-Source Learning networks.
Communicating Online
Often, communicating online requires explicit description of practices we take for granted in real life. When we gather in person, we depend on nonverbal cues like facial expressions, tones of voice, or body language to understand each other. Online, it's easy to miss sarcastic humor or double meanings,
For a succinct, proactive guide to facilitating digital dialogue, see "The Art of Hosting Good Conversations Online" by Howard Rheingold
Nonviolent Communication
Marshall Rosenberg developed Nonviolent Communication (NVC) to foster communication based on connection and shared understanding. NVC offers a framework with associated language and practices that highlight compassion and empathy, to support learning community members as they develop skills in expressing themselves and listening to others.
You can begin exploring NVC at Wikipedia & the Center for Nonviolent Communication.
Socratic Methods
Socrates famously asked questions and engaged others in dialogue that provoked curiosity, invited exploration, and led to deeper understanding. There are many ways for Open-Source Learning network members can participate in Socratic conversations – in the classroom, online, and wherever people gather – to expand their thinking.

Christopher Phillips has brought the work of Socrates to classrooms and public spaces for the past 20 years. His work has influenced educators, business leaders, and community facilitators to host Socratic seminars and cafés of their own. You can read more about this in Dr. Phillips' book Socratic Café and other works.

Mediation & Restorative Practices
The adversarial approaches to conflict that are modeled in today's legal system and popular culture take a healthy human dynamic and make it a problem.
Conflict can strengthen bonds between people and serve as a constructive resource in solving problems and making the most of opportunities. Contradictory thinking and divergent perspectives enrich group settings. As Dr. Bruce Tuckman observed in his theory of group development, when individuals develop confidence in their roles, they must often sort out disagreements or personality clashes.
Rather than treat conflict as a competition in which there are winners and losers, Open-Source Learning uses interest-based mediation practices to help network members identify and address important issues between them.
You can learn more about mediation principles and practices in Fisher & Ury's Getting to Yes and mediator Ken Cloke's books.
Mediation predates our systems of laws and our education institutions. It allows people to connect directly and take their seats at the table to hear and be heard. Instead of half the parties losing all the time, everyone gets to experience the sense of being heard, which provides the opportunity to sustain and strengthen relationships over time.
Restorative practices also provide peer-to-peer strategies for facilitating communication when there is conflict, or harm has been done. Restorative dialogues and circles have proven particularly effective in situations involving accountability and forgiveness, and you can read more about them in Circle Forward: Building a Restorative School Community.
All of these learner-centered philosophies and practices are aligned with the vision and mission of Open-Source Learning, and can be used to support effective interaction both online and in the classroom.
__________
You can learn more about ways to introduce Open-Source Learning in Academy of One – available wherever you like to buy your books online. To receive a discount of 20% click on the image below & use code RLEGEN20 to order directly from the publisher.